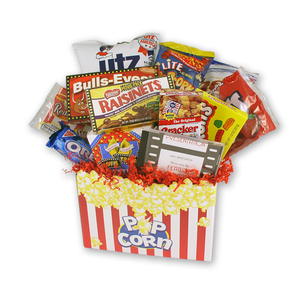 Movie Time Edible Gift Basket
Please call us today for a quote- discount available for higher quantities.
617-731-9800
Get ready to enjoy the show with an assortment of edible treats that are the perfect accompaniment to movie night! Movie Time Edible Gift Basket includes Oreos, movie fortune cookies, microwave popcorn, JuJuBees, chocolate CD, Raisinets, Cracker Jacks, Twizzlers, Chex-Mix, Popcorn, potato chips, pretzels, Bulls-Eyes in a decorative popcorn box.
---