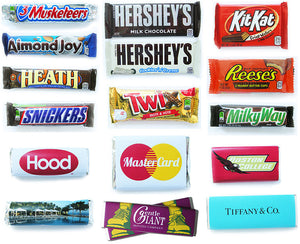 Full Size Candy Bars
Please call us today for a quote- discount available for higher quantities.
617-731-9800
Standard size chocolate bars take your taste buds to candy paradise. Wrapped in your full color custom logo. Great for advertising, special events, corporate promotions and gifts. If there is a candy bar that you would like that is not listed, please let us know.
​
Choices are Hershey's Milk Chocolate, Hershey's Cookies & Crème, Hershey's Special Dark, Hershey's Milk Chocolate with Almonds, Nestle Crunch, Reeses, Twix, Butterfinger, 3 Musketeers, Almond Joy, Heath Bar, Kit Kat, Snickers, Reece's Peanut Butter Cups, Milky Way, Mounds, Baby Ruth, Payday, and 100 Grand.
---