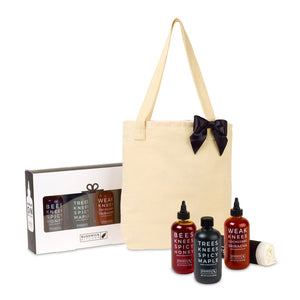 Bushwick Kitchen Bees Knees Spicy Trio Gift Set
Please call us today for a quote- discount available for higher quantities.
617-731-9800
Featuring a trio of Spicy Honey, Spicy Maple Syrup and Sriracha this gift set will bring the heat to a savory dish, craft cocktail, meats, vegetables, cheeses. Includes our useful and stylish Hudson shopper tote, a handy dish towel and a unique QR code with inspiring Bushwick Kitchen recipes. Bees Knees Spicy Honey is gluten-free and Paleo-friendly. Trees Knees Spicy Maple is gluten-free, Paleo-friendly, and vegan. Weak Knees Gochujang Sriracha contains soy and wheat.
---