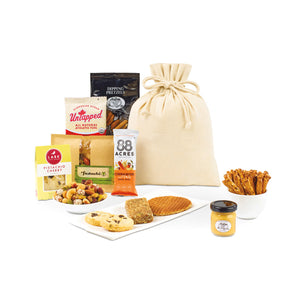 Artisan Gourmet Gift Bag - Medium
Please call us today for a quote- discount available for higher quantities.
617-731-9800
This gift bag brimming with gourmet treats is the perfect companion to pair with a cooler, sling bag, backpack, tote or drinkware item of your choice or as a delicious welcome gift on its own. Includes pistachio cherry cookies, dipping pretzels, sweet and tangy mustard, berry nut mix, cinnamon seed bar and a maple waffle to naturally fuel your day all packaged in a reusable drawstring gift bag. Food Net Weight: 10.3 oz. All items shown are packaged inside the gift bag.
---